Electric VS Hydraulic Facial Beds: Which One to Choose in 2023?
When considering whether to buy an electric or hydraulic spa bed, the most significant difference is cost. Hydraulic facial beds are usually less than $1000, while electric facial beds range from $1000 to $3000+. 
While the cost difference is significant, the reason becomes obvious when you consider the various features that electric spa beds have over hydraulic ones. The main differences are that electric spa beds typically move more smoothly, have better build quality, are more adjustable, and last longer.
Electric spa beds obviously perform better, but hydraulic spa beds can still be the better option if you aren't looking to spend a lot on equipment. You will undeniably get what you pay for. If you're still unsure of which option to go with, the rest of this article will go over some other things to consider.
Electric Facial Beds
An electric facial bed uses an electric lift to seamlessly raise or lower the facial bed without interrupting the client. They also come with an adjustable headrest, backrest, and leg rest. Some tables also come with removable armrests and thermal heat features.
PROS:
Adjustments can be made quickly with the help of a remote, allowing the esthetician to continue with the service.
The beds can lower to a comfortably lower height allowing the client to climb on the bed easily.
Electric beds also rise to a height comfortable for the esthetician so that the service is easier on their back.
They come with more padding and have better ergonomics.
Though electric facial beds are motor operated, they are quiet and have a smooth transition.
Electric beds can be cleaned easily.
Due to their weight, they are sturdy and durable. 
CONS:
Electric facial beds are expensive. They can burn a hole in the pocket depending on the features they offer.
Electric beds require an outlet on or closer to the floor, preferably near the bed. Ensure that the bed doesn't sit on the wire. Else the wire may split, and you'll have to replace it.
Motor issues can lead to high repair bills.
As the name indicates, electric facial beds are dependent on power. So if there's a power cut, the bed will stay in the same position it was before the outage.
They are heavy, so you may be unable to move them without help.
Hydraulic Facial Beds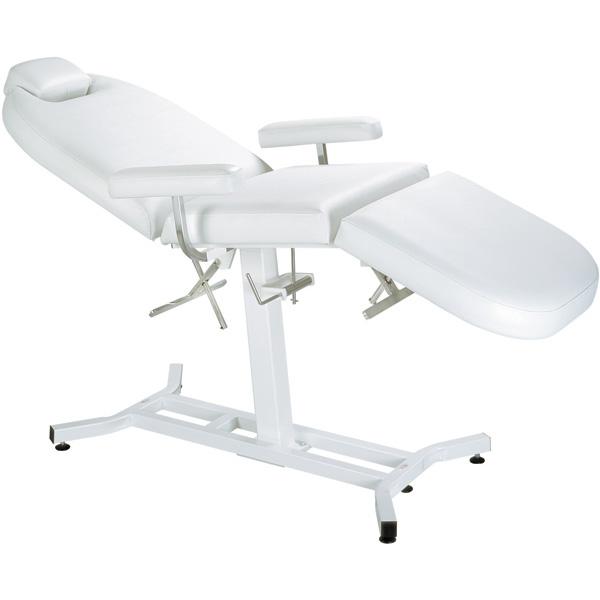 Hydraulic facial beds are simply facial beds with hydraulic lift actuators that allow you to adjust the height of the bed. That way, the esthetician can ensure that the client is most comfortable throughout the procedure.
PROS:
Hydraulic beds are ideal for small spaces since they double up as a bed and a chair.
With hydraulic beds, you get more room to maneuver. It also creates more space when needed, especially when the client arrives or departs from the salon.
Top-of-the-line hydraulic beds rotate 360 degrees, making them an ideal choice for estheticians who require more mobility.
Hydraulic beds require no electricity and hence are not affected by power outages.
CONS:
Hydraulic facial beds are not fully adjustable.
They combine hydraulic and manual, meaning the backrest and footrest has to be adjusted manually by the esthetician.
Adjusting a hydraulic bed can be physically challenging.
Hydraulic beds are

 

not as quiet

 

as electric beds. Furthermore,

 

they do not transition as smoothly

 

or effectively either. 
Important Things to Know/Consider Before Buying:
1. Client Comfort
Client comfort varies heavily with the type of facial bed you choose. To truly offer the best service, the med spa chair you choose should be adjustable. Everyone's not made the same. The right chair conforms to the client's physique offering ultimate comfort.
A good quality med spa chair can take on any variety of different tasks, from being in a clinic, spa, salon, and even a tattoo parlor.
So the first and foremost point is to choose a bed that suits your services. If your salon or spa provides a full range of services from medical treatment to skincare, you will benefit from a electric spa bed with adjustable seating and a rotating base.
2. Longevity
If you're planning on having your med spa bed for a long time, you'll likely find an electric bed to be much more useful. They certainly provide a higher quality of life for both the client and the service provider. As previously mentioned, electric facial beds are often more comfortable and easier to adjust. They also almost always come with a warranty of at least one year, with some coming with a two year warranty, and even up to five years on select tables and brands.
Also, some professions will be harder on the spa bed than others. For example, if you're going to preform waxings on your table, you might benefit from a studier electric treatment table and possibly even a clear cover for longevity.

If you're not sure how long you're going to be using your facial bed, it might be worth spending less and buying a hydraulic facial bed. You can always upgrade to a higher quality bed if you decide you want one later down the line. 
3. Budget
With such significant price differences, your budget is very important to consider. If you're planning on being in business for a long time, the fixed cost of your equipment goes down significantly. If you have enough room in your starting budget to invest in a higher quality bed, it is likely to be worth it.
Resale on an electric facial bed is also likely to be higher than a hydraulic facial bed because they are less common and last longer. People are also much more likely to upgrade from a hydraulic facial bed and try to sell their previous bed, resulting in a higher supply of hydraulic beds but greater demand for second hand electric beds.
What is an Electric Massage Facial Bed?
To get facial treatments done, a facial bed refers to a bed or chair in which the client lays. Some facial beds have features that can even allow clients to get full-body spa treatments. From classic wooden, stationary beds to motorized ones, you can find a wide range of variants online. Then there are simple beds to some high-tech beds that have a million of buttons that correspond to a million different functionalities.
So are massage beds good for you? Whatever make or function it offers, these beds are essential in spas and face treatment centers as they give clients the comfort they need to relax. They can even make the harshest and longest of the facial treatments comfortable. You would know that an uncomfortable facial bed can ruin the entire experience if you have ever gone to get a facial treatment at a spa. Feeling even just a little bit of discomfort for clients can be a nuisance that distracts them from relaxing and having a good time, which is the very first reason why most people go to a spa in the first place. That said, investing in a high-quality facial bed even if it is just for a facial treatment or spa would reap a lot of amazing benefits.
MORE ON ELECTRIC ESTHETICIAN BEDS
If your budget allows for it, an electric med spa bed is usually the better option. Here's some more information on the benefits of an electric spa bed.
Improved customer satisfaction with optimal comfort:

 

Sure, your customers can have facial treatments done from you on any massage bed. This does not mean the experience will be comfortable, though. Because of the amount of time that people spend in your salon, it is important to keep your customers as comfortable as possible. For optimal comfort, as they go through a facial or spa procedure, a high-quality and adjustable bed will come in handy.
Adjustments can be made quickly:

 

Any of the relaxing treatments requires you to lie on your back, lay your head, and maybe even move your head around to give the professional right access to the canvas they will be working on. The facial beds are specifically designed to make alterations to support your head and back well during the treatments. Even the low-quality beds can provide adequate support, however, the higher-quality beds can provide support and extra comfort in the form of soft cushions and padding. Plus, these can be adjusted to accommodate the different weights and body types.
A better experience for professionals:

 

Apart from your customers, your employees also contribute to your salon's success, allowing them to perform their treatments and procedures on you more effectively. Generally, they are well-trained to do what they do but they still effectively perform any treatment or procedure on you with a facial bed as compared to a couch.
Convenience:

 

Having a dedicated piece of equipment with the sole purpose of supporting you during spa treatments beats having to repurpose different seats in your salon just to give a facial. For one, you don't have to go through the hassle of setting up your space every time you want treatment done.
Advanced techniques and accessibility that enable better therapies:

 

In this advancing technological era, we have moved from desktops to laptops, cell phones to smartphones, and in-store shopping to online shopping. Then why stick to traditional non-adjustable spa chairs when you can choose from electric massage beds in a variety of sizes, colors, and improved features? For instance, some versions have features such as swiveling tables, vibration settings and several types of support to enhance customer experience.
Aesthetically pleasing:

 

Having a functional, chic, and quality beauty bed can improve the aesthetics of your salon. Note that, when customers walk into your salon, they don't just rate your service on therapies but also on your interior elegance. Having a quality bed will complete the luxurious salon experience that people crave.
Helps to offer a plethora of services:

 

The more diverse the services, the more customers, and eventually the more business generates more revenue. With the versatility and modern features, you can offer your clients with various services with a single electric facial bed under your belt.
Durable:

 

Here at

 

Sunlight Spa Supply, we strive to cut through the noise and only provide the best for you. Investing in quality allows you to determine how long and in what form it will last.
Budget-Friendly:

 

With the above-enlisted benefits, you have concluded the price of professional electric massage beds to be skyrocketing? However, this is not the case. With a one-time investment, you can reap the benefits for years to come. Moreover, they come with a wide price range to make your purchase as extravagant or as simple as you want.